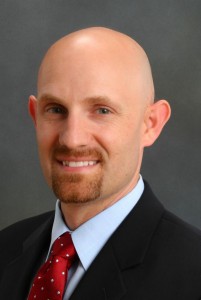 John M. Erickson, M.D. is a native of El Paso, TX and graduated summa cum laude from Baylor University. He received his Doctorate in Medicine at the University of Texas Southwestern Medical School at Dallas in 2004 with honors. He completed training in orthopedic surgery at the University of Michigan Hospitals in Ann Arbor. In 2010, Dr. Erickson completed a fellowship in hand and upper extremity surgery at Vanderbilt University Medical Center in Nashville, TN.
Dr. Erickson is board-certified by the American Board of Orthopaedic Surgery (ABOS) and is an active member of the American Society for Surgery of the Hand (ASSH). Dr. Erickson received the Sub-specialty Certificate in Surgery of the Hand in 2014. He is a member of the American Academy of Orthopaedic Surgeons, Vanderbilt Orthopaedic Society, the North Carolina Society for Surgery of the Hand, and the Robert E. Carroll Hand Club. He joined Raleigh Hand Center in 2010.
Dr. Erickson is married to a pediatric surgeon at the NC Children's Hospital in Chapel Hill and has one daughter. After traveling around the country for medical training, Dr. Erickson and his family now call North Carolina home. They are active members of Christ Church of Raleigh.
Outside of the hospital, Dr. Erickson enjoys staying active with hiking, mountain biking, jogging, photography and spending time in the mountains, lakes, and coastal waters of North Carolina with his family. Dr. Erickson enjoys following Michigan Wolverine and Baylor Bear athletics.
Honors and Awards
American Society for Surgery of the Hand member, 2015
Subspecialty Certificate in Surgery of the Hand, 2014
Patients' Choice Award, 2013
American Board of Orthopaedic Surgery, Diplomate, 2013
Alpha Omega Alpha, Medical Honor Society, UT Southwestern Medical School, 2004
Summa Cum Laude, Baylor University, 2000
Phi Beta Kappa, Academic Honor Society, Baylor University, 2000
Baylor University Achievement Scholarship, 1996
Eagle Scout, Boy Scouts of America, 1993