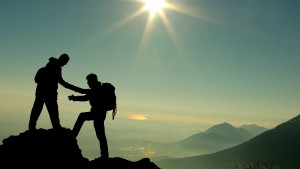 At an early age I felt a calling to help others. When I applied to medical school, I did not know in what direction that calling would take me. I had hopes of practicing primary care medicine, and in fact, surgery was the farthest specialty from my mind.
My desire to become an orthopedic surgeon developed during medical school when a friend and fellow classmate, Julie, was struck by a car. She sustained multiple severe fractures including her pelvis, both femurs and both wrists. The thought of losing her independence was devastating, but truthfully, Julie was just happy to be alive. Julie underwent multiple hours of surgery, endured many weeks of rehabilitation, and her recovery was remarkable. Thanks to the skilled treatment of orthopedic surgeons and therapists – and her positive attitude – Julie regained her function, independence, and life.
The ability of orthopedic surgeons to make an immediate, positive and lasting impact on the lives of people was a powerful attraction for me. During my medical school rotations in orthopedic surgery, I realized that Julie's dramatic recovery was not uncommon. I saw patients who underwent hip replacement surgery walk painlessly for the first time in years; children with broken forearms heal without deformity; and patients with cut tendons in their hands recover range of motion and function. After witnessing the amount of good orthopedic surgeons can do for their patients, I felt called to practice orthopedics.
These days, I find great satisfaction knowing that I do my best every day to help someone in need.